SHOW IT, DON'T TELL IT!
By Nana Nørgaard & Benjamin A.Wendelboe
Flashback to the summer of 2019 and Danish Roskilde Festival, one of the largest in Europe, takes place, as it has every summer for almost half a century. As always, social responsibility is a big part of the festival – besides giving away piles of cash to charities, the social purpose and principles are at the core of the whole party. The caption of 2019 was SOLIDARITY, and these yearly themes chosen by the festival do not only spread amongst audiences, but also through the thousands of volunteers, artists taking the stage, and all the way behind the scenes, to the people working production. To a small part of the techs, solidarity is always on the agenda – 6 women out of the 35 sound engineers working for the festival. It might not sound like a lot, but it's twice as many as last year, and in a business where less than 10% of the people working backstage are women, and where everything points to women having a particular hard time getting a foot in the door, the increase is an important step towards diversity.
The six techs on homecourt, and at least five of the touring techs, are members of the European organisation WOMEN IN LIVE MUSIC (WILM), founded in 2018 with the mission of representing and displaying women in the music business, in order to reach, inspire and support other women with aspirations of producing live music shows. It isn't about quotas to WILM, but simply showing the world that women techs are out there and are just as good at what they do, as their male counterparts.
"I hope there is a woman or a girl in the audience, that sees me on stage, and gets inspired, and realises 'Okay, I'm also able to do this. Okay, there's someone for me, that I can identify with' cause if you don't see anyone you can identify with, how are you supposed to know it could be you up there?",​ says Anna Gideonsson, Swedish sound engineer.
For the love of music
"The reason why I work with sound, is because I love music – I'm not even a very techy person – to be able to be creative while working with the music, being a part of it, and not just like kicking off a gig",​ Anna Gideonsson, monitor tech on Roskilde Festival's Avalon stage, continues, before explaining how she always makes herself what she calls a 'joy-mix', after giving the act on stage what they need.
When Swedish rapper, Silvana Imam opened Orange Stage, Johanna Gustavsson was the first woman in the festival's history to ever turn on the mixing console. Just as a spot on the iconic orange stage is desirable to musicians, working in front of it is coveted by sound engineers. With Gustavsson's push of a button, one of Europe's biggest festivals has begun.
"I love this job to bits and there's nothing more magical than sneaking around in the shadows of the stage before showtime and then the adrenaline at the intro, almost getting goosebumps just thinking about it and when the show is running smoothly and it sounds great and the band is on top – it's just magic. Sure it's stressful and hectic and all that jazz but to be in that bubble with a band and crew and to have them turn in to true mates and family over time, is pure bliss, t​ells Swedish Gustavsson.
Challenge on!
One thing all of these techs have in common is the love of live, but how they got to where they are is unique to all of them. American Loreen Bohannon, who came to Roskilde with the much exposed Lizzo, was initiated into the business at an early age, when her 14-year old self got caught up in a school theatre production. ​"That's when I met a production company for the first time. I wanted to help them, and they told me 'you can't help, unless you know how to wrap a cable, and we're not going to teach you'. And I was like 'oh! challenge on! I'm going to learn how to organize them', and I swear to God, I am only standing here today, because everyone has told me 'you can't do that'. Here I am. Stubborn. I started working in the production company's warehouse that summer, loading trucks, fixing speakers, soldering cable. I spent two summers there, and I was mixing almost every weekend, from the time I was 17, two or three times a weekend – monitors, FOH, whatever", ​recalls Bohannon, while Mette Helms Andersen got a taste for it as part of the creative and anarchist scene around "Ungdomshuset" in Copenhagen; "Something about it fascinated me, so I started to follow some of the other techs when they went out to do shows – all of them within the same scene. Soon after, I started taking on gigs myself, and that taught me incredibly much, incredibly quickly. I started when I was 17 or 18, and volunteered for a lot of years. School-wise I was doing something completely different, until one day when I realised that this is what I wanted to do, and that's when I applied Stage Production school in Malmö, where I studied for three years. I can mount lights too, you know.
"I got started at VoxHall in Aarhus" ​tells Lighting designer Anni Klitmøller, visiting Roskilde with Danish metal band Baest. "​ I was a volunteer there, and I began remember thinking that the stuff going on up there on stage looked kind of interesting. I began playing around with it, and then I was hooked. That's when things took off".
In a male dominated environment such as live music production, female role models are important in getting more young women started. They're all happy to share their stories, but like young Roskilde-veteran, sound engineer Jessica Pedersen explains:
"If anyone wants to know about what a sound engineer does and to have a role model, I'm happy to help. I just think that the whole being a female engineer – I can't change that I'm a woman anyway. There's a fine line to it.. You know, I want to inspire people, but I don't want the whole woman-angle. You want to just be recognized for what you do too".
False chivalry
When talking about gender and underrepresentation backstage, it usually kills the mood somewhat, and you do feel some resistance when brushing the idea of getting a job to fill some sort of quota, or because of your gender.
"That would be a hard pass for me. That's not the way, because it'd really be false chivalry"​, expresses Anni Klitmøller in reference to the times when venues or festivals have made a big deal about helping female artists by explicitly and exclusively booking women. While the venues score big on their 'band-aid', women end up being blamed if for some reason the initiative isn't successful – that just shows they weren't good enough. According to Anni Klitmøller there isn't any quick fix for it: "​ Diversity isn't black/white. It isn't either or. It's habits, it's routines, it's ideologies that we have to deal with. We shouldn't point fingers or make quotas and stuff. If we want more women in the music industry, we need to start in preschool"​ she says, and Anna Gideonsson from Sweden agrees: ​"I remember in school, when we were supposed to watch a VHS video, and it was always the boys who were asked to go get the TV and stuff. It already starts there. I don't think that girls aren't allowed – they're just not invited"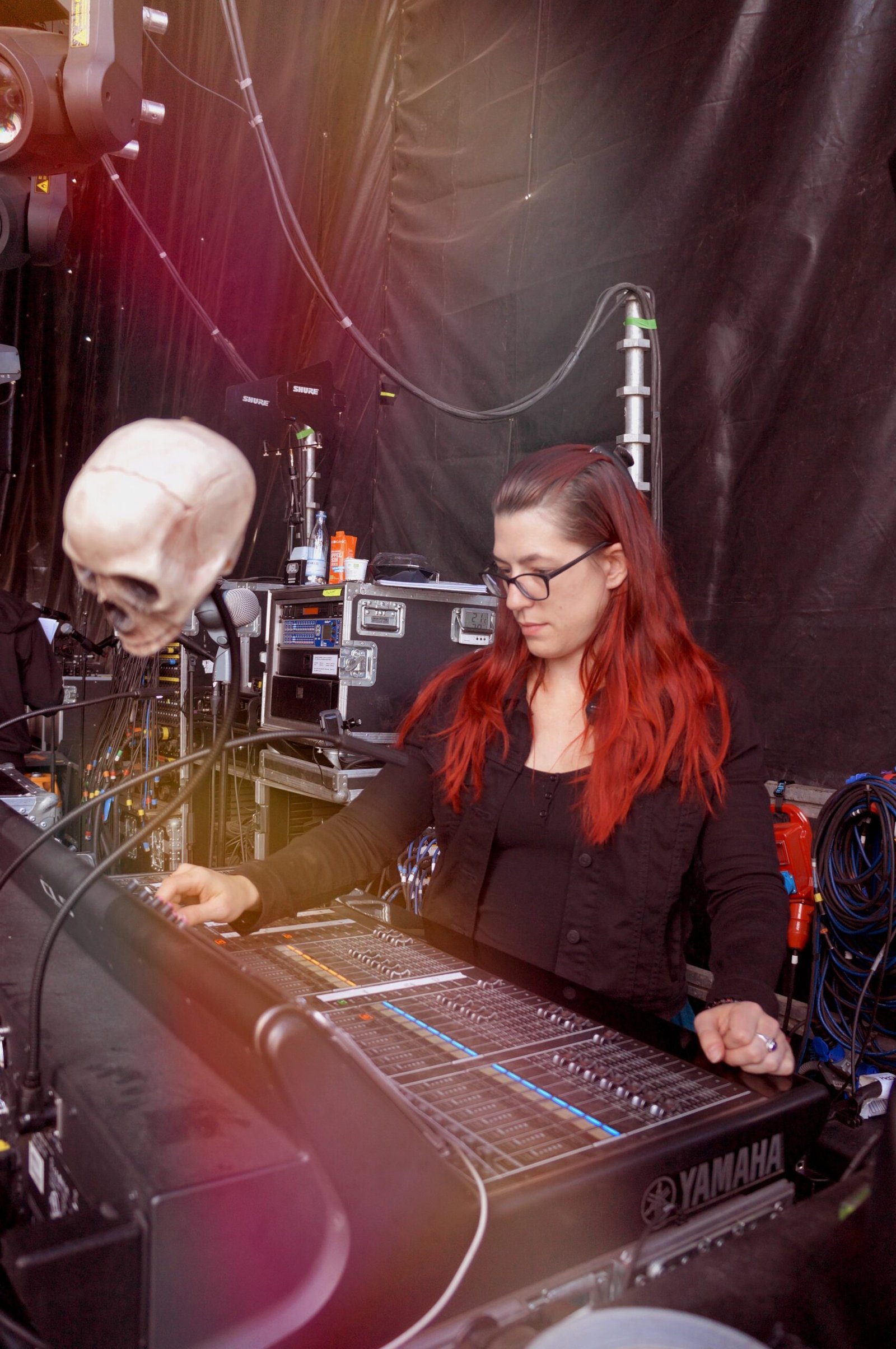 Loreen Bohannon (Photo by Benjamin A. Wendelboe)
Anna Mac from the UK travels the world as light tech for British megaband The Cure, and she too thinks things could be better, but she has begun to see improvements.
"​When I first started, it was only maybe three-four that I knew who did it. The great thing is, there's more women and more younger girls coming through, with the right attitude and stuff like that – it's just about getting people to give them a little bit of space and give them the encouragement, because it's hard when it's quite a male dominated area", s​ays Anna and continues: "T​ his industry w​ ill​ take its toll – it's very challenging mentally, very challenging physically. You can get swept up in the hours, long days, lack of sleep and the travelling. I'll go months without seeing my family or friends, but that's one of the reasons why you build such friendships on the road, because they know what you're going through – they know what it's like to be away from their friends and family too.
You get a foot in the door, keep it there and stay sane
As a female tech you shouldn't expect any special treatment, and e​ very single one of the techs we spoke to, say they wouldn't want it either.​ What you can expect though, is people walking right by you to talk to the nearest male colleague about something that is really your responsibility. A lot of people still aren't used to seeing women in working with tech. You should also prepare to have more people watching when you're working – both curious and scrutinising.
If you think live production is male dominated, you should take a trip to the Middle East, where t​ he only​ female live sound engineer is Sana Romanos of Lebanon, who worked monitors a the Arena Stage: ​"Being the only one doing live sound on a professional level here in the region has meant that I had to face a great deal of challenges starting up in addition to what women in the field face in general. People simply did not know that it was even possible for a woman to take on this job, so to be taken seriously I had to prove myself and work harder than any of my male counterparts. But it also meant that I've always had a spotlight on me being 'that woman who does live sound' and I learned to turn that spotlight into my advantage by actually being good at what I do. I took my discrimination and turned it into exposure and a solid reputation – and that is probably both the hardest and the most rewarding thing I've done".
Sana Romanos (Photo by Benjamin A. Wendelboe)
Working twice as fast as your male counterpart to prove your worth is exhausting and it isn't sustainable. WILM is painfully aware of the number of women leaving their dream job ahead of time, and is working on retention by throwing workshops titled 'How to Survive & Thrive in the Music Industry', and perhaps most importantly by having created a Facebook group that first and foremost revolves around the job, but allows women – men are welcome too – to spar and advise each other. Apart from exhaustion, physically and mentally, there's another thing that will make a lot of the women quit – the moment they have children.
"On the other hand, there are plenty of male sound engineers with kids"​ said the seven months pregnant Mette Helms Andreasen, who worked monitors at the festival.
"There is of course some lifting that I can't do right now, but no one hires me because I'm good at lifting – they hire me because I'm a good sound engineer" ​she continues.
Parents-to-be have no idea what to expect from life after birth, and the thought of leaving home for long periods of time can be frightening to mothers and fathers alike. Mette's confidence that everything works out in the end was unmistakable, as she described how she had always thought it looked so nice when coworkers would call home to tell their kids goodnight.
"But I might not want to be away from home the way I have been. I'll cross that bridge when I get there. Right now I'm fortunate enough to have permanent employment – I can just go on maternity leave".
Like Mette, Jessica Pedersen also worked the 2019 festival as a mom-to-be, meaning a third of the women of Roskilde Festival's sound engineering team was pregnant, but that didn't stop them from working just as hard as their male counterparts. Jessica, who has long been in high demand amongst touring musicians, is happy to be staying home in Denmark for a while, and Mette returns to her job as an engineer at music venue Viften when her leave is up.
Jade Payne who, aside from the poles and Africa, has worked every continent as FOH for Khruangbin states​ "I never want to talk negative about the state of inequality – It's definitely important, but I think we should focus on celebrating the women techs, the queers techs, the techs of colour, that are out there. When people come up to me and say 'Oh, it's so cool – there aren't many women doing what you do, I always try to change the conversation into something positive and say 'actually there are'. I have met so many of the around the world. Is there room for improvement – yeah! But I think as time goes on I see more and more women engineers out there, hopefully it will keep snowballing.​ "
Jade Payne (Photo by Benjamin A. Wendelboe)
Being a black, female sound engineer, the NYC resident Jade has on several occasions found herself hired by a venue or tour manager that wanted to demonstrate diversity, but like she says: "If I didn't do a good enough job, I'd quickly be fired".
Also tay tuned for the coming up article on the motherhood in the live industry!