WILM Newsletter Number NINE
# 09 Welcome!
WELCOME TO THE 9TH NEWSLETTER!
How is it March ALREADY?! This year is just flying past.
Here is what we have been up to since December.
December – WILM Awards Christmas Party, London
On the 17th December WILM turned two! So we celebrated once again at the Signature Brew in London with a Christmas party.
For the second time, we took the occasion to highlight some of the talented and dedicated few women out there in the venues and on the road and celebrated the winners of the WILM Awards.
Members who came down tucked into a Lebanese buffet, drank roadie beers and
took part in our
Bullsh** Bingo – and later the Crew Quiz!
At the end of the night, we revealed the winners of the 2019 Awards, where we had 28 categories from Merchandise to Rigger. Congratulations to all of the winners!

Thank you to all the generous sponsors who helped make WILM AWARDS 2019 so special.
Shure, ALLEN & HEATH,

 

Sarm Music Bank,

 

Dirty Rigger,

 

DPA Microphones,

 

Signature Brew,

 

Baba Souks. And also a big thank you to Pin-Up Denmark for the loan of Natalia Liossi and Marcel van Limbeek (Britannia Row), who both were excellent hosts.
Winners received gifts kindly sponsored by Shure
And here they are, the WILM Award Winners 2019!

December –

 

Intro to Backline London
In December we had the pleasure of hosting another "Intro to backline" workshop at Sarm Music Bank in London. By occasion we teamed up with Girls Rock London and MusicSupport.org, who happened to be hosting an Open Jam session that same day at Music Bank! Everyone united together and learned from each other. Plus everybody, both musicians, tour managers and future backliners had a crash course in doing a sound check. Great fun, and we all decided to team up again in the future!
Josh from Sarm Music Bank telling about backline, and his job at the rehearsal space with clients such as Robbie Williams, Billie Eilish etc


December – Meet up Berlin
We had our second meet up in Berlin! Thank you to those who attended.
Currently working on a couple of workshops (Intro to Rigging, and an Advanced Lighting Workshop) so keep your eyes out!)
January – Eurosonic Netherlands
Our head of the Balkan chapter, Tejka Vasiljevic gathered a couple of members from across Europe at a pub in Groningen, where ESNL takes place.
Besides representing WILM, and our partners Password Production from North Macedonia, Tejka also managed to give an interview to the famous TV show 'Rock Palast' from WDR (Interview coming March 8th!)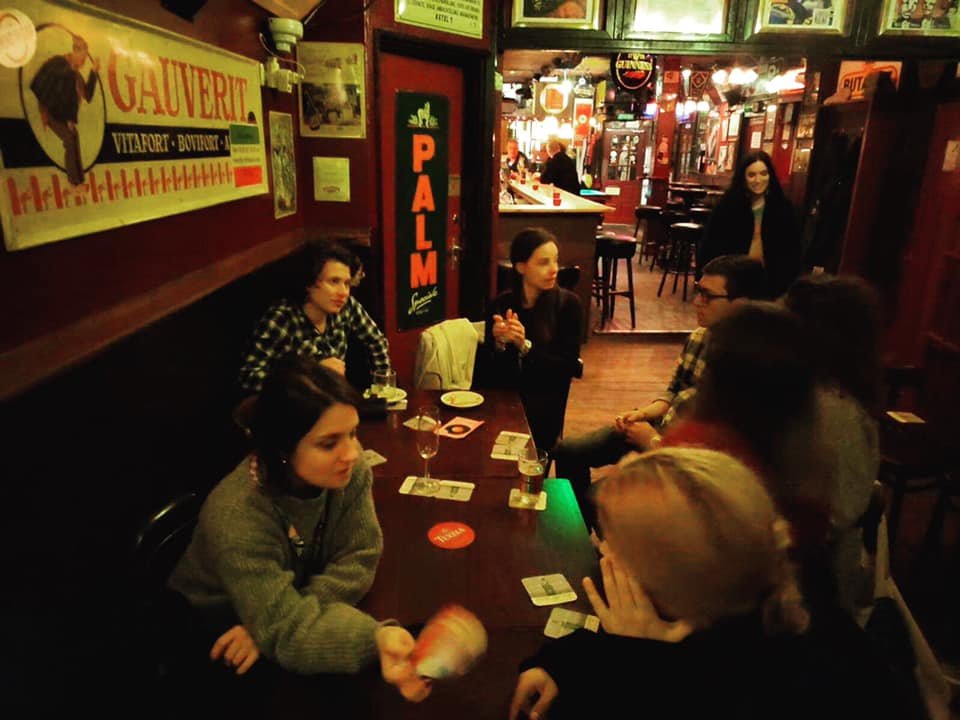 Members from across Europe meeting up at Eurosonic
February – ISE Amsterdam
We had a busy time at the biggest European tech trade show networking with some of our partners;

 

Allen & Heath, d&b audiotechnik, Klang Technologies etc.
We also had the pleasure of meeting up with AVIXA women council, who ran a networking session at the ISE, where we were fortunate to meet some amazing women from the AV industry.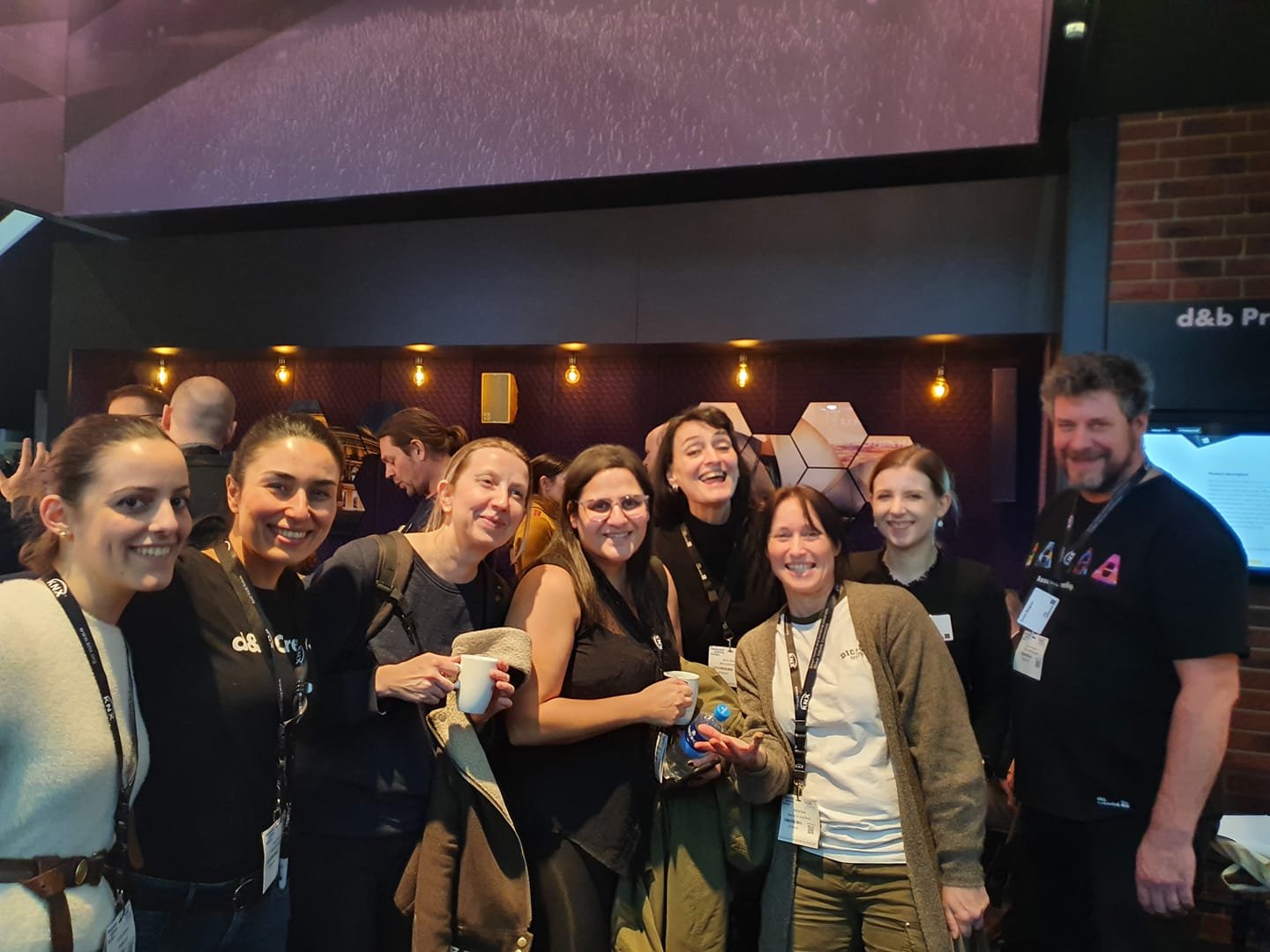 Visit to the d&b stand at ISE to talk upcoming workshop – see further down!
February – The 1975 'Walk & Talk' London
The 1975 Stage Manager, Jack Dunnett talking about life on tour
In February, WILM members were once again lucky to be able to see how an arena show for The 1975 comes together.
Stage Manager Jack Dunnett gave us a tour of the stage, explained how they build the intricate custom set and the roles of the people working hard to make the show come together.
Thankyou to Jack (and his mum!) for having us and all the attendees who arrived early and had lots of great questions. Looking forward to the next one!
WILM members at Wembley with Jack Dunnet (stage manager for The 1975)
February – d&b Workshop Germany
For the 3rd time we were invited to the headquarters of d&b in their beautiful surroundings in the south of Germany. 19 women from 7 European countries joined this specially designed 3-day workshop, where they were introduced to sound design and the immersive d&b software 'Soundscape'. There was plenty of hand-ons experience with rigging, time-alignment etc. Many of the participants said that this was one of the best things they have ever done! Big thank you to Banu, Dominika, Bella and of course 'Mr.Jones' and the rest of the d&b family.
d&b headquarter in Backnang, Germany
***** UPCOMING EVENTS *****
——————————————————————————————————————–
March 9th 2020 – Celebrating Women in Audio & RF Workshop
We are delighted to be putting on this special training day focusing on RF, Dante and Shure's Wireless Workbench.
We will go through set up, networking and trouble-shooting for upcoming and experienced pro sound engineers. We invite members to join us also to the secondary event in the evening.
Champagne Reception on March 9th at Shure
–
please see the invite below
We are delighted to be putting on this special training day focusing on RF, Dante and Shure's Wireless Workbench.
We will go through set up, networking and trouble-shooting for upcoming and experienced pro sound engineers. We invite members to join us also to the secondary event in the evening.
Champagne Reception on March 9th at Shure
–
please see the invite below
SPOT FESTIVAL May 1st 2020 – Live Music and Motherhood



In May, Women in Live Music will be presenting a panel discussion at SPOT+, hosted by SPOT festival in Aarhus May 1st at 14.45 pm. As the title reveals, the subject will be Live Music and Motherhood.
We all know, it can be challenging to work in live music whilst also having a family, due to such things as the long hours, touring on the road..
The panel, which consists of four expertised persons, from different areas of the industry will explore questions such as;

 

Do parents receive any support from the music industry? How can we improve the conditions of touring parents?

The results of our survey, 'Motherhood & Pregnancy' will also be shared at the panel.
On this day, together with our many music industry companions, we wish to find solutions and inspire each other.

We hope to see you there!
The important survey, we need to talk about:

Motherhood & Pregnancy in the Live Music Industry
Whether you are a mother, expecting, planning your motherhood or have decided not to have children, your thoughts matter to us.
The choice of having or not having kids belongs to every woman, however it is of general belief that choosing to have children is the killer move for those who work on the road.
At the moment WILM has an ongoing survey with the purpose of investigating the life of mothers and mothers-to-be in the business, and where our community stands on pregnancy and motherhood at work.
As well as investigating if it is true that the majority of our members between the age of 25 and 38 chose not to have children due to their career.
We have already got the discussion started on our social media pages and really appreciate everyone's input so far!
For those who haven't answered our survey yet, we would love to hear from you.
The results of the survey will support our efforts to gain more knowledge on the subject! So, p
lease take two minutes and thirty seconds to fill out

THIS SURVEY

– this data is very much needed, Thanks!
Check our Facebook Page to be the first to sign up for events when they go live. If you have an idea for a workshop, seminar or event – please get in touch with WILM by sending an email to

info@womeninlivemusic.eu
What else has WILM been up to?


3k!
Yes that's right our Facebook page has reached 3,000 likes and our group has reached 3,000 members. We've come a long way in just over two years.
Interviews
French-reading members can check out this interview done with our own CEO Malle Kaas on La Fabrique Culturelle here
.
The important donations:
This time we would like to highlight ROSA – the Danish Rock council, with whom we did an all-female stage crew production with last year! Thank you so much ROSA – the donation has helped us to pay for our office space, maintaining our website and other admin stuff.
If you would like to make a donation or to become a fundraiser for WILM, please get in touch with us by emailing info@womeninlivemusic.eu
That's all for now!
The WILM team
Please don't hesitate to get in touch with us, if you have any inquiries