WILM Newsletter Number TWENTY ONE
Welcome to the 21st Newsletter!
It's only March but we have already so much to tell you in this newsletter!
As our community continues to grow, this year sees more WILM activities planned than ever! So let's take a recap over the past couple of months and see what is yet to come for 2023!
We are as always super grateful to our members for sending us a postcard letting us know what they are up to!
You can send us a postcard via email or our Facebook Group!
Gig postcard from the road 🙌

This time all the way from Zanzibar!
Pictured is the talented stage tech Clara, plus artist liaison (and soon-to-be Mum!) Sane at the 'Sauti Za Busara' Festival. Keep up the good work ladies!❤️
What we've been up to since our last newsletter:
WILMAwards, December – London, UK
WILMA Winner Katrina Grice with James Hill from Shure
The WILMAwards was once again a great success with so many wonderful people in attendance at our ceremony at the Rose Shure Experience Centre in London.
This year we had 197 names in 33 categories all the way from Automation Engineers to Wardrobe Assistants and nearly 8,000 people went to vote for the candidates from all across Europe.
The buffet kept everyone going and drinks were flowing, meanwhile DJ Ama spun some fantastic tunes to keep the festive vibe going between activities.
After we played our infamous Bullsh*t Bingo and Crew Quiz it was an utmost pleasure to finally be able to reveal what everyone had been waiting for – this years' winners!
Even Elton John came along to host the Bullsh*t Bingo
Sound Engineer Ira Lobanok won our Outstanding Award this year for her fundraising work with Musicians Defend Ukraine, a charity which raises money to help Ukrainian musicians defend their land from the Russian invasion.
Not only did we get to celebrate all the amazing women behind the scenes we also raised £990 for Musicians Defend Ukraine with an auction of Katie Frost's print and photo book as well as Shure's sponsored beautiful headphones.

Baby by courtesy of LD-mum Contie Chow
A huge great Thank You to our sponsors of the WILMA: Shure, Flightcases.dk, Britannia Row, Neg Earth Light, PhotoboxUK and London Speaker Hire. We couldn't have done it without you!

And here they are! The Winners of the WILMAwards 2022!
NB – Due to unforeseen circumstances we are still waiting for the WILMA trophies to arrive. We will notify the winners as soon as they land in our office in Copenhagen!
Skiing Trip, January – Romme, Sweden



Happy Skiers Cora, Emma, Karoline, Lyliss, Malle & Hannah at the top of Snöberget 🏔️
We had a wonderful time on the slopes in Sweden earlier this year during our annual WILM Ski trip.
Amazing weather, yoga, sauna, great food and even greater company! A special shout out to Cora Schönherr – our star skier who despite not having downhill-skied before put everything into it and was a total pro by the end! 👏
Make a mark in your diary now for the "WILM Skiing Trip 2024!" Dates will be Jan.14th – 18th 🏂
Walk & Talk with the 1975, January – London, UK
WILM Members at the O2 for the production tour
Once again we were invited down to the O2 Arena in London for a "Walk & Talk" of The 1975's "At Their Very Best" Tour production.
A huge thankyou to Stage Manager Jack Dunnet and Production Manager Josh Barnes and of course the rest of the team who met and accommodated us and spilled the secrets of how the stage gets built and transported internationally, where they find the props, what goes into the lighting design and why, and how they try to make their shows as sustainable as possible. A truly insightful day, here's hoping we can do many more of these! **
**If you are touring in the UK/EU this year and think you could offer an hour or two for a "Walk & Talk" of your production for our WILM members, please we would love to hear from you at info@womeninlivemusic.eu !
Eurosonic Festival Conference, January – Groningen, Netherlands
Panel guests Lotje Horvers, Emma Hestbæk and Johanna Beckmann.
We had two panels at this year's Eurosonic Festival. Both were a great success and we couldn't have asked for better luck when it came to then panellists, content & the audience! 🙌
You can read about the panels here:
Recognition Of The Live Crew
which was a
statement about the crew situation 2022 vs 2023, and
Health vs Touring Life
which was very much about bringing back in humanity to the live music industry 🙏 Thank you so much to Eurosonic for inviting us back this year!
ISE, January – Barcelona, Spain
Upper left: Audio workshop at Allen & Heath, Upper right: TPi Panel
Down: Diversity Network Session at Shure
This year's
Integrated Systems Europe
has set a record as our industry's biggest trade show with almost 60,000 unique visitors! WILM proudly was a part of it. We were super excited to have met so many colleagues and friends from all over the world, as well as held a number of events. A workshop in collaboration with Shure, Allen & Heath and Audinate gave a great opportunity to see some practical implementations of using these brands in real life. Our team member Valerie Gard took part in a panel hosted by TPi and shared some insights on keeping up with client's expectations. A cherry on top was our famous Diversity Bingo at Shure's booth, where so many people had a blast!
Thank you ISE and see you all next year in Barcelona!
Netherlands Meet up, February – Utrecht, Netherlands
Members of WILM, Soundgirls, Backstage Pass and Shure met up in Utrecht
Lately we had the pleasure of teaming up with
Backstage Pass NL
and
Soundgirls
for a great round of catching up and get to know new colleagues.
We always highly appreciate these opportunities for networking. A big thank you to
Shure
for sponsoring the event.
Upcoming Events:
Production Futures, Cheltenham UK – March 8th
If you are new to the live events industry – this is the place you wanna go!
Here you can meet a bunch of other newcomers perhaps on the same path as you, but more importantly it is also the place where you can meet the people behind the big tours and productions. Plus you can meet some of the companies that are behind all the great tech out there.
Register for a free ticket here
NB – There will be Drinks & Pizza's between 4pm and 6pm in regard of International Women's Day ♀️
WILM X Neg Earth, London – March 14th
This event is now full and has a waiting list. However, even if you are not attending the workshop you are welcome to join us at 4.30pm for drinks!WILM have teamed up with NEG Earth Lights for an exciting day of workshops on LX, Rigging & Power on the 14th March! The day will consist of different workshops held by practitioners from NEG Earth as well as our very own WILM Lighting Designer Subul Lodi and Rigger Ida Maria Borgström. The event is open to newcomers or for people who would just like to brush up on their already existing knowledge! We will round up the day with some networking drinks and a panel talk on 'Exploring possibilities in the technical world'.

If you are only joining the panel + network drinks you don't have to sign up, just show up at Neg Earth, LH3 around 16-ish (We will start the panel talk at 16.30.)
Shure Champagne Buffet & Panel On 'Imposter Syndrome', London – March 22nd
This evening we will participate at Shure's annual Network session with friends & associates. Besides the traditional Champagne buffet there will be a lovely panel debating "Imposter Syndrome" – how to recognize it and how to deal with it.
More information to come soon via our social media.
Workshop with d&b audiotechnik, Backnang, Germany –
April 3rd – 6th
We have an amazing offer from d&b audiotechnik to collaborate on a three day-workshop at their HQ in Backnang, Germany, which will run from midday on April 3rd to midday on April 6th!
The workshop will contain studies on: ArrayCalc, R1, How to tune systems, Intro to Soundscape as well as a Factory Tour around d&b's facilities in Backnang.
The workshop is free of charge, but attendants will have to manage their own travel and accommodation expenses. Closest Airport is Stuttgart, and local hotels cost around €200-300 for the duration. Please sign up here or check our social media for more information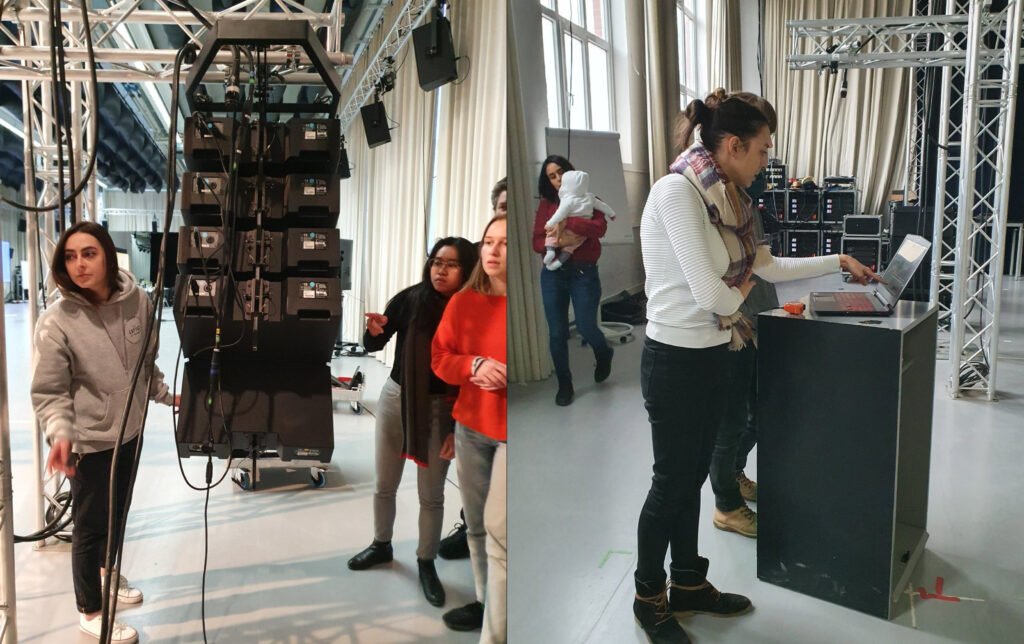 Aarhus Lydforening, Denmark – April 21st – 23rd
Aarhus Lydforening in collaboration with Women in Live Music and ROSA, DMF Aarhus, LYDBYEN, Turks & Radar Live is organising a project to raise women and gender minority involvement in live sound engineering and music technology.
Through the 3 day workshop you will:
Have an introduction in live sound

Talk about digital mixers, acoustics, mixing monitor, FOH, microphone placement

Be a part of the Soundcheck process

Talk about sound perceptions at concerts and the psychology of working with musicians

Meet different venues/bookers/ producers
SheSaidSo-Iceland & Sweden – April 27th (Webinar)
In association with SheSaidSo we will introduce the nordic members and everyone else to some great role models from the live music industry from the cold north. Stay tuned for more information!
Get Your WILM Calendar 2023/24! 🗓️ Or the 500 piece puzzle of the female crew from 'Sabaton'🧩
– and support the work we do for more diversity backstage 💜
Hooray 🙌 Flightcases.dk is offering 20% on their products for WILM members!
We are talking Peli cases, IP cases, all sorts of flight cases and foam!
Flightcases.dk are one of the largest manufacturer of flight cases in Europe, and also the ones behind the legendary WILMA trophy🏆 Please email us for the voucher at info@womeninlivemusic.eu
Want a picture of your dog, goldfish or George Clooney on your Peli Case?
Whatever design you want on your Peli Case, Flightcases.dk can make it happen. Just lets us know and we'll put you in touch with the right person
Crew List Fee
We are currently updating our payment system and the fee for our Crew List is going to increase to 20€ per year. (For all the existing members the fee will increase automatically with the next year's payment.) The fee will help run WILM so we can continue keeping this amazing community going!
Please reach out to us with any concerns.
Stay safe, and stay tuned and we hope we will see you very soon.
The WILM Team

(Malle, Hannah, Aiste, Olive, Tejka & Valerie)
Women In Live Music is a non profit organisation and we highly appreciate any donations in order for us to continue our work for minorities backstage. Please don't hesitate to contact us if you would like to make a donation.