The Path of a Female Sound Engineer
Written by Valerie Gard
If someone had told me 15 years ago that I would be in charge of the things the audience hears during a show and this would be the result of my work together with the team of audio-pros, I would have never believed it!
At the time all those years ago, I was a full-time musician. I sang, played instruments, wrote songs and wanted to pursue a career as an opera singer. But at the same time, as a teenager I was always interested in computers and technology. I used to have pieces of my computer scattered around the house and I hung out with programmers and computer nerds. At some point I had to decide which university to choose, so I chose a Music academy. However, after several years of studying, though I was doing well, I realised that this was somehow not enough, a bit narrow. I wanted to dig deeper and find something that could support my interest in technology as well.
So, I left the academy and my hometown, moved 7,000 km to Saint Petersburg and found a university where sound engineering was taught. I gave it a go, prepared, entered and suddenly realised this was the thing that I'd always longed for. It combined my two big passions for music and technology.
A bit later I started my work as a studio sound engineer, I did a lot of recordings and mixes, and a couple of years later had my first live gig. That was the point of no return. I got the same feeling as performing on stage – a mix of thrill, excitement and concentration. The only difference was me being in charge, and the audience hearing what I wanted them to. I felt like I ruled my own kingdom of sounds, and shared them with people. I realised I should make my career in this area.
I started working with bands and wanted to get into a rental company, but that wasn't quite as easy as I thought it would be. At the time I knew only one woman in live sound, who I had studied together with, all my other colleagues being men.
Some of them used to tell me that rental business was not a place for a woman, I should forget it and continue working with some small bands or better yet stay in studio engineering. Even my ex-boyfriend, who was also my colleague, told me not to go into this business. "It's men's work" – he said. Of course, I didn't listen to them and continued learning the theory, desks and software. I spent basically all of my free time learning and researching. The feeling that I had was a desire to prove to everyone that I could do better, and not just better "for a girl" but better in general.
I'd already been working for a couple of years with bands and in clubs, when I got an email from Aleksei, a production manager in Zvukohod Rental Company. He wrote that he'd heard of me from some of my colleagues, they were impressed with my work, and he wanted to try me at a small show as a freelance engineer. I've been working for this company ever since, first as an entry-level engineer and 'babysitter' and later as a system tech and engineer. Now I'm a chief engineer in the company and have worked at the largest festivals and shows in Saint Petersburg as a system engineer and network engineer. At the same time, I was doing tours all over the country with some pretty big artists as a FOH engineer.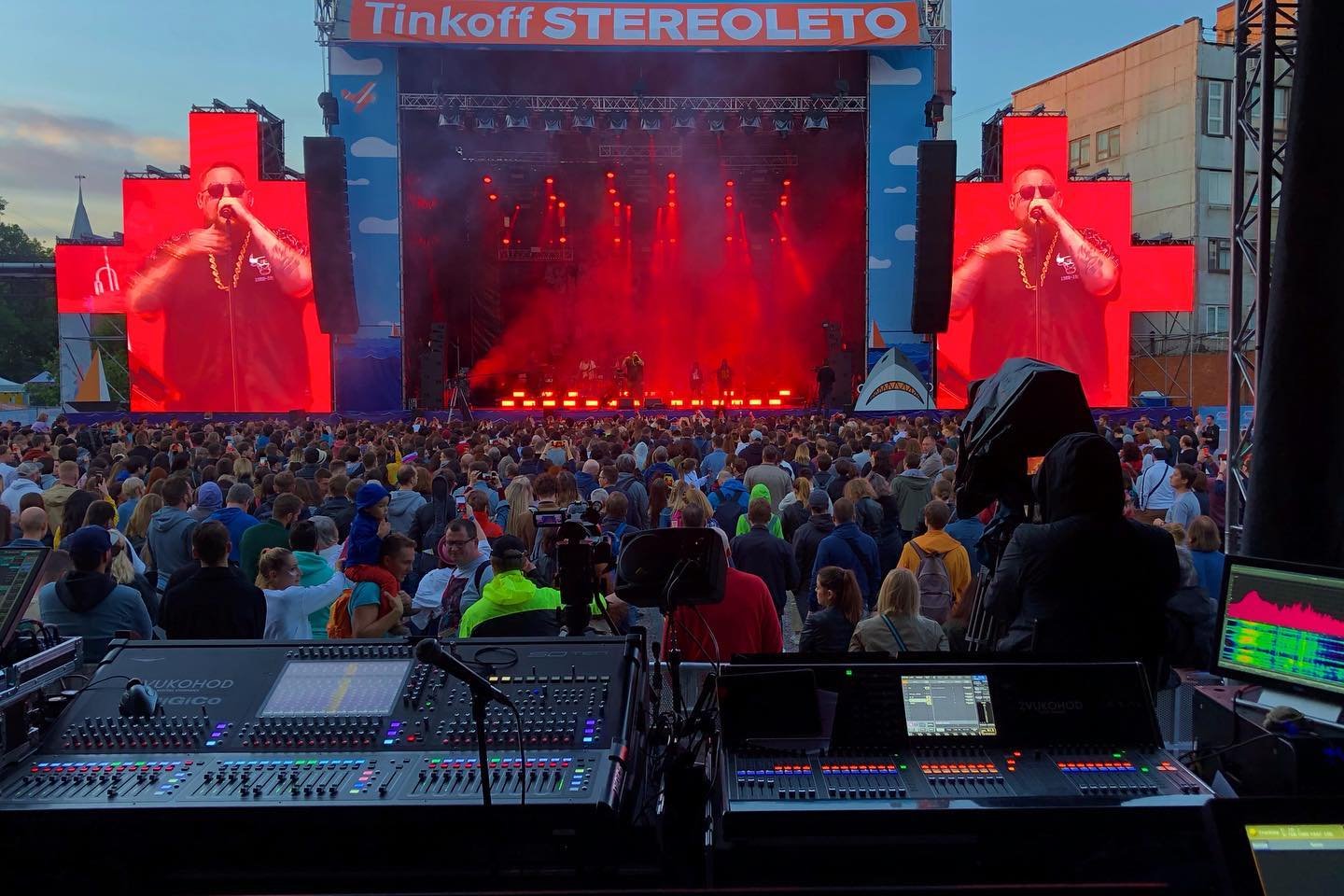 Now I almost never hear that I don't belong in this business. People who used to pick on me now ask for my advice. Not all of them of course, but those who are set in their ways don't bother me anymore. I know how hard it was for me to get where I am, and I'm proud of it.
The situation in general has actually been getting better over the last few years. There's still quite few women doing tech positions in live production, but there are becoming more and more of us.
One of my colleagues has recently become a mother and a trailblazer at the same time: she continued working while caring for her baby and got a lot of help and understanding from her co-workers.
I guess, the reason for all the complications is that the show industry in its modern sense is pretty young in Russia compared with other countries and it needs some time to develop a lot of aspects including gender equality. My female colleagues and I are going to contribute to this trend and hopefully in a few years we'll see some good results.