WILM Newsletter Number FIFTEEN
Welcome to the 15th Newsletter!

Gigs are back! And boy have we missed them, but we missed you all even more! As the world cautiously opened up little by little over the summer, so did we, and held our first meetups since the pandemic began.
Here's a recap of WILM activities since you last heard from us:
💌 Postcard from Ruth Lodge re-Download Festival: The first festival to happen in the UK since the pandemic began! (June 2021)
"I'm just having a recovery day after working Download Pilot (UK) last week. We had our first all female stage crew and stage manager (a first for the Music Consortium crew and Festival Republic). We smashed it, and for one crew lady it was her first time on a show call and she nailed it. We felt empowered and respected, the bands and techs really cheered for an all-female crew. I'm old school and grew up in this industry with guys, but god damn I wouldn't change them ladies for the world! Our next step is a 6 lady crew and a bigger stage. And we will smash every aspect of it! So I just wanted to shout out these amazing ladies of The Music Consortium (Leeds, UK)
We look forward to more of this!!
All the best, girl power!!"
Amsterdam MeetUp – June
ISE sadly didn't go ahead this year in Amsterdam but WILM host and Tour Manager, Lotje Horvers had a lovely meet up with WILM members Charlotte and Carolina in sunny Westerpark flag 🇳🇱
London MeetUp – June
It was wonderful to finally get together again for a catch up in Battersea, London

🇬🇧


Thank you to everyone for coming to our WILM meet-up and making it such a lovely experience!
Can't wait to do it again soon!
Networking Carousel – July
WILM hosted a networking carousel, where members got to meet each other, exchange experiences and share stories from the field.
The concept is based on a speed "networking" idea with 5 lightning rounds of 2 minute one-on-one break out rooms and then two 5 minute rooms in small groups.
This first event was a "test run", and the beginning of a recurring networking event for all WILM members.
Next round of WILM's Network Carousel will be:
Sep. 13th, 16:00 GMT+1
Bring A Friend or Your Favorite Co-worker!
The Back Lounge – July
The lovely Suzy Green invited Malle Kaas & Erin Lynch from the WILM team to co-host a session at The Back Lounge about 'DIVERSITY: How's it doing backstage?'
Most people know that more diversity means a more positive dynamic and more creativity. But how are we actually doing at this point, when an estimated number says that less than 5% working backstage represent a minority?
We can tell it was an eye-opener to many of the participants, especially the male audience who were happy to learn about how it is to belong to a minority backstage….which sometimes can be quite a challenge! (Like when you get sent down to catering even though you are the sound engineer, and were asking for the way to the stage!)
Thank you to everyone who attended the session and brought their ideas and experiences forward.
Let's keep having these discussions!
Radio show – July/August
In July's edition of the The WILM Radio Show; Our host Erin Lynch and guest Tim Brennan chatted about the touring situation between the UK and EU.
Tim started a petition because he wanted to make people aware that we face a very real threat to our livelihoods as touring professionals and to highlight why we all need to be able carry on touring throughout the EU.
We learned about the Carry On Touring initiative accompanied by great tunes of Tim's choosing!
Tim Brennan is a freelance multi camera vision director / engineer. He has been freelance for 30+ years and has worked worldwide with artists such as, Lady Gaga, Madonna, Rhianna, The 1975, Peter Gabriel, Meatloaf, Arcade Fire, Lynyrd Skynyrd and many more.
Last Friday we had Prof. Dr. Katja Ehrenberg on the show!
Her and Erin explored topics such as: Why are we better working in a group and how the hell do we manage to get back to do gig's without losing our minds!
Katja started off studying psychology and her early enthusiasm for social, organizational and health psychology never left her throughout the versatile steps of her career. In 2016, Katja completed an advanced training as Systemic Counsellor. She has since contributed to a number of conference panels and workshops on stress and mental health in the live music and event industry.
If you didn't catch the latest edition of the WILM Radio Show – Don't worry! It's available as a podcast as well!
You can listen to the WILM Radio Shows here!
Upcoming Events:
September – PLASA Show 2021, London
The UK's biggest trade show for entertainment technology is back! PLASA 2021 is happening 🙌 We would love to invite you to an informal meet for drinks and snacks after the show finishes on the first day on 5th September at 6pm at The Hand and Flower (Just opposite Olympia). Even if you are not attending the trade show we would love to see you anyway!
If you are planning on attending our PLASA Informal Meetup please RSPV in the Facebook event page to let us know you are coming 🙂
WILM Crew Moms 1st Online MeetUp – September 15th
Interested? If you go to our website here and click on the subgroup 'MOTHERGROUP, you will be able to subscribe to our monthly meeting as well as apply to join the private Facebook Group for the crew moms.
As something extraordinary, we welcome female artists as well for this group – because it's obvious that women both on stage and behind stage are facing nearly the same obstacles, when working in the live music industry as a mom or soon-to-be-mom.
WOMEX conference, Portugal Oct 28th – 31st
"HOW CAN WE TALK DIVERSITY ONSTAGE, WHEN WE FORGET TO INCLUDE OFFSTAGE"
Jwana Godinho, international booker, Margarida Moreira, touring lighting designer and
Nuno Moura from the magazine Faniak will all be joining our panel about diversity at Womex moderated by WILM CEO, Malle Kaas. With special guest appearance from Carine Tredgold, a female stage manager from Zimbabwe
System Engineering Webinar – TBC
We are currently working on putting together a webinar all about System Engineering
featuring the wonderful system engineer Ville Kauhanen from Finland.
As soon as we have a date for this we will announce it on our Facebook page and website so keep your eyes peeled!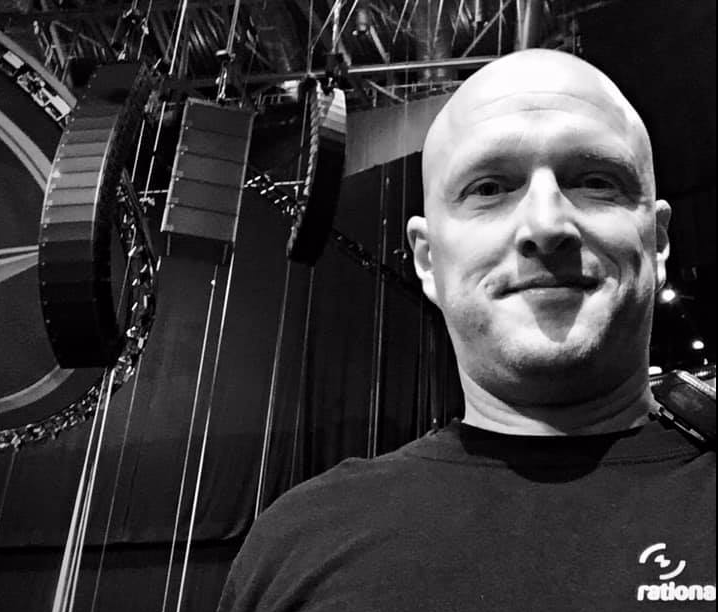 Ville Kauhanen, System Engineer: System Of A Down, Britney Spears, etc.
WILM Awards
Again this year as for the past three years, we will be celebrating the WILMA's!
We are really hoping to be able to have a proper party so we can all meet the great WILM community in real life and our members can get the chance to connect with each other.
But as most international travel is still ironically 'up in the air' we will have to look at this
closer to the time to see if it is possible.
However, in the meantime, look out for when you can nominate yourself or your co-worker in our various categories from catering all the way to rigging! Be aware you need to get the approval from your co-worker, if you are nominating someone you know. (The nominees need to be based in Europe/Russia/Middle East/North Africa.)
Nomination round will open mid November, and voting will be open from Dec.1st to
Dec.7th.
WILM Calendar 2022
Do you have a great gig photo? If so please email it to us at info@womeninlivemusic.eu and you may be featured in our WILM 2022 Calendar!* Those featured in our calendar will win some special WILM merch!
*Please note we can only accept high resolution images.
Help us keep the WILM community alive!
It costs money to run WILM, and even though we would love to make it free, we need to change the rules and the fee for the WILM members so we can continue what we are doing.
From December 1st it will cost €20 per year to be a paid member of the WILM community.
But what will you get in return for the €20….?
★ You get to be showcased on our Crewlist on our website that gets frequently visited
from booking agencies, festivals, artists etc.
★ You can join our events and workshops for free!
★ 10% discount on all WILM merch
★ You get to take advantage of the discount deals we have with our partners and
associates.
We hope that you continue to support us, if you have any questions please feel free to
reach out to us at info@womeninlivemusic.eu
Special WILM Deals
➢ Rock'n'roll Yogi – Feeling the anxiety sneaking up on you now where the gig's are
coming back? Monitor Engineer & Yoga Therapist Becky Pell has worked out a 4-part
online session to reduce anxiety, and is offering a 50% discount for WILM members
(normal price £60)
➢ SMAART – Rational Acoustics is offering WILM members a 15% discount on their
products.
Sign up for a WILM membership here (€20 annually)
Our beloved Facebook group
From day one, we have loved all the action happening in our private facebook group; from questions about where to get your eyebrows done on day off in Brussels to the
gig-postcards (oh yeah, we love them! Keep 'Em coming!).
And during the pandemic, you were so good at keeping up the good spirit among us all 🙏💚 Like for instance Suzy Green's Back Lounge or our own WILM Radio show
that happens once a month.
Now the gig's are picking up again, we see a lot of job offers from the UK. But did you
know that you can also post in the group if you have a gig to offer whether you are from
Finland, Germany, Poland, Greece, Spain or one of the other 32 European countries?! We would love to see more from other countries.
Added to that we would love to hear from the catering people, the drivers, the stagehands etc. We hardly hear how you guys are doing out there, so please send us an update from the road, the festival or the venue!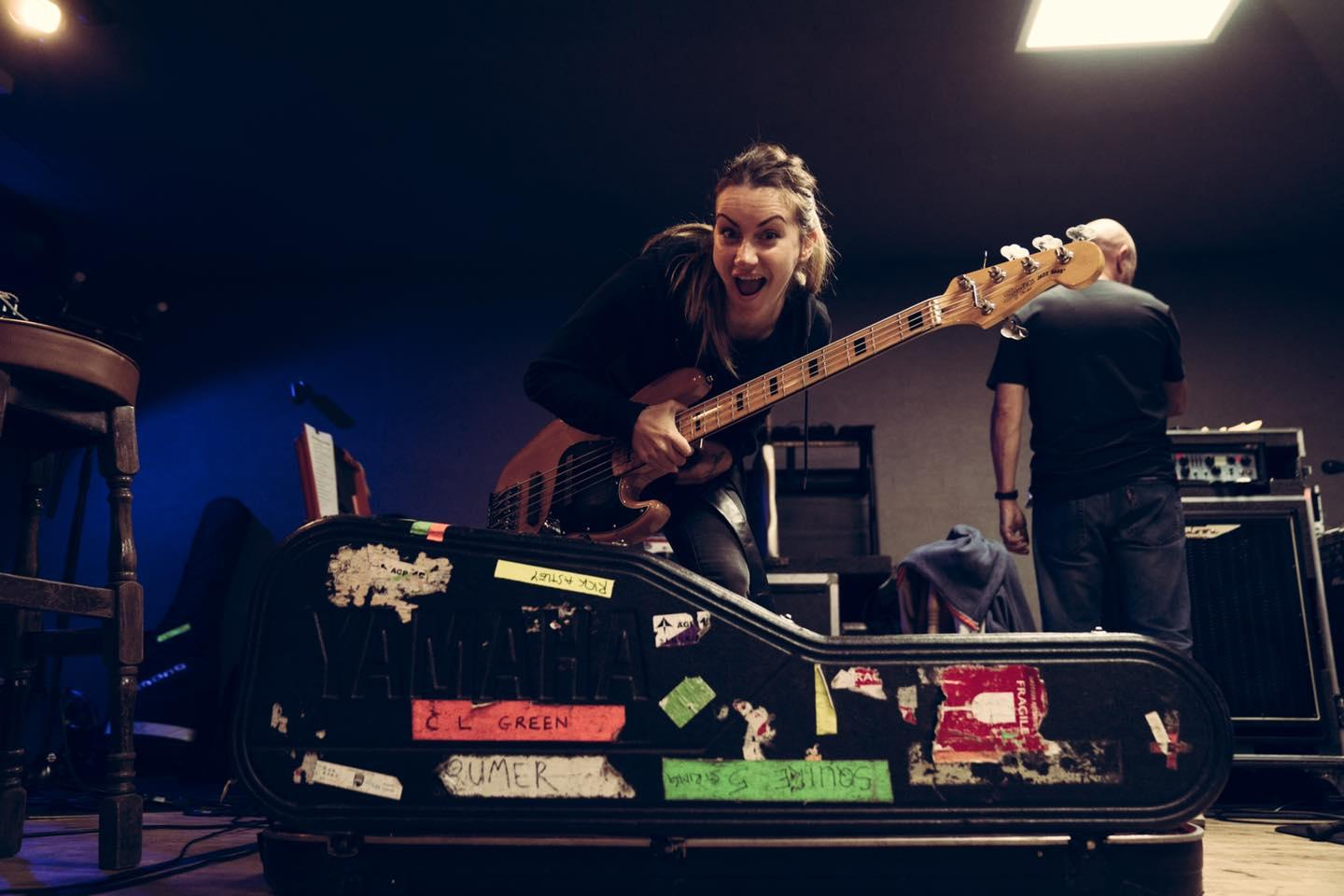 Sara Ferrero, Backline from the UK 📷 Rick Astley
Not a member yet in the Facebook group? Click here
That's all for now!
Stay safe, and stay tuned and we hope we will see you very soon.
The WILM Team
(Malle, Hannah, Aiste, Tejka, Sana, Anna, Malene & Erin)
Women In Live Music is a non profit organisation and we highly appreciate any donations in order for us to continue our work for minorities backstage. Please don't hesitate to contact us if you would like to make a donation.