WILM-Newsletter Number SEVEN
# 07 Welcome!
WELCOME TO THE 7TH NEWSLETTER!
Hope you all have had a brilliant summer season.
Many of our members have been working at festivals and had the chance to meet each other around in Europe. We have to say that we are so happy that our community is reaching out and connecting!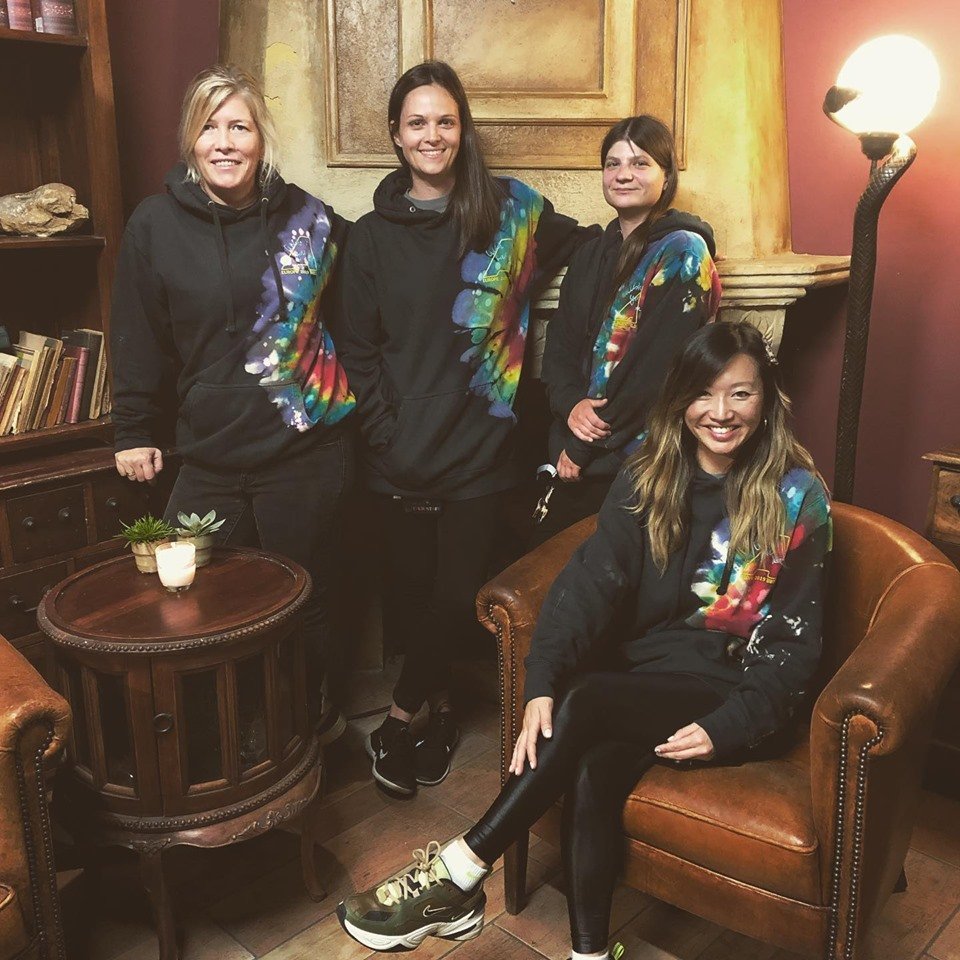 The 4 ladies on the Travis Scott tour: Production, Tourmanagement, Backstage & Merch!
A lot has happened for WILM this summer, and we would like to share some of the highlights from the past three months:
WILM Meet up in Skopje, Macedonia
Our very first Balkan meetup happened in June, held in Skopje in Macedonia.

The event contained a panel discussion which covered topics such as:
reasons to work in the live music industry, how it affects one's private life and statistics on how many women are working in the live music industry in the Balkans.
We hope all attendees gained knowledge and insight, and more importantly found new friends and associates.
The very 1st WILM meet up in the Balkans
The event was hosted by the head of WILMs Balkan chapter,
Tejka Vasiljevic who had this to say about the meet up:
"All speakers shared their experiences and opinions about working with women, facing uncomfortable situations and clarified why we need WILM in our region so badly. Our conclusion is that in our region we are facing a conservative mentality, lack of education in schools music-wise and very small music market!
To make a change and to encourage more women and other minorities, we need to educate, educate and just educate! This can be made possible through WILM."
Musik I Lejet – July
In July fifteen women from around Europe met to join forces for a whole week at the beach-based festival "Musik I Lejet" north of Copenhagen in Denmark.
The main goal was to learn how to be a good stagehand through the camp Women in Live Music had made in association with the festival.
One of the most important mantras for WILM is that to have a community behind you makes you so much stronger, and the very first WILM camp proved this.

As one of our 'Mermaids' says, "Being part of the group was one of the best things, 'cause together we created a community where everyone had each others backs".
It was very clear to see how the girls grew inside this community they created, which led them to feel more confident about themselves and their contribution at the festival.
Workshop at PLASA, London – September
We were so delighted to host a special seminar at PLASA this year titled "How to Survive & Thrive in the Music Industry"
We shared some tips on how to get your foot in the door, and more importantly – how to stay there. We also shared our secrets on creating a great CV for freelance work, and how to keep busy during the slow season and most importantly how to handle stress and burn-outs.
Thank you to everyone for coming, was fantastic to meet some new members!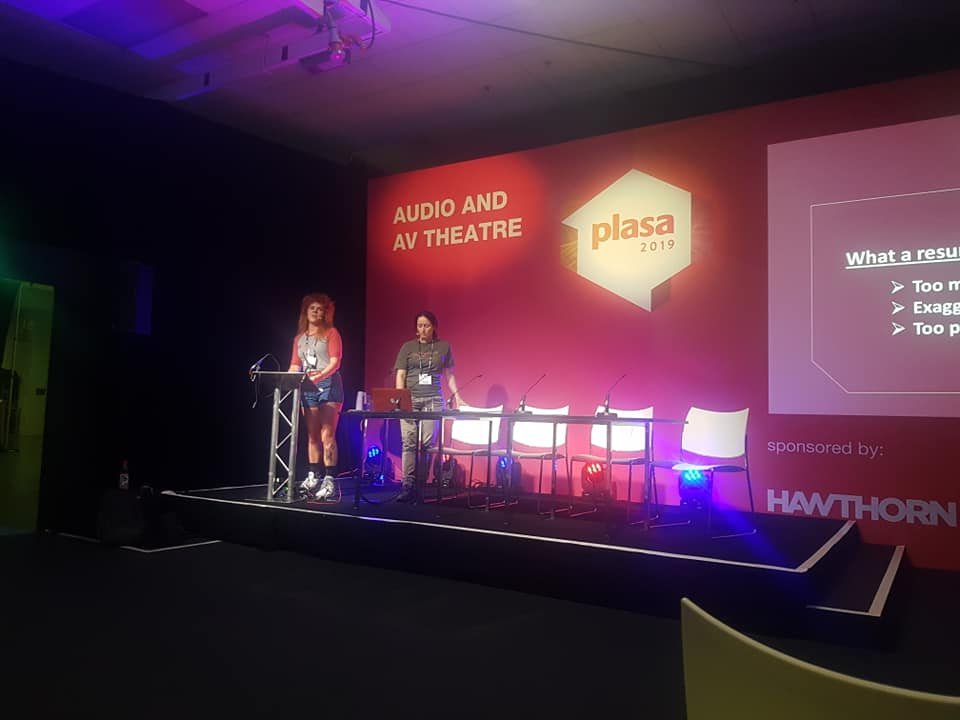 'The workshop was Presented by Malle Kaas (WILM CEO) and Hannah Brodrick (Co-Director).
Smaart Training
Congratulations to two of our members, Eluned Ashwood and Aistė Baltraitytė who have each been offered a special WILM attendance spot on the Smaart Training course, taking place across Europe. We hope you get a lot out of this wonderful opportunity.
A big thanks to Rational Acoustics for this generous offer.
Dates and locations for the European training can be found
here ->
And for all of our members, Rational Acoustics have been so kind to offer us a 15% discount on their online products. Please, email us for a voucher at info@womeninlivemusic.eu
You must be a signed up member to benefit from these great offers
here ->
Smaart is a dual-channel, FFT-based software platform we use in our work as audio engineers to view the frequency content of signals or measure the response of our electrical and electro-acoustic systems. Much like medical instrumentation for doctors, this tool helps us examine our sound systems in detail and diagnose and solve problems.
Roskilde Festival
We are Extremely proud to announce that Roskilde Festival has selected to support WILM with a great donation in 2019!
It means a lot to us, as WILM is a non-profit organisation who has expenses that is hard to get covered for the group of volunteers that runs WILM on a daily basis. So it was much needed! But the most important thing to us in regards of this donation, was the recognition of the work WILM is doing for the minority groups with in live event productions. So from the bottom of our hearts and on behalf of our members:
Thank You Roskilde!
UPCOMING EVENTS!
WILM workshop at d&b in Backnang – October
For the 3rd time d&b audiotechnik have been so kind to invite us to their headquarters in the beautiful surroundings of Backnang, Germany (close to Stuttgart).
For 2 1/2 days we will go through Line array theory, ArrayCalc, Soundscape and much more in a specially designed workshop for WILM members.
This workshop is as usual free of charge and open to our male colleagues as well. It will be held in English. More details can be found on the facebook page
here ->
Be sure to sign up quickly to avoid missing out!
And much more to come so stay tuned!
If you have an idea for a workshop, seminar or event – please get in touch with WILM by sending an email to
info@womeninlivemusic.eu
Stay tuned
Check our Facebook page to be the first to sign up for events when they go live.
->
click here
In order to attend any of WILMs activities, you must be a paid member. Not a paid member yet? You can sign up here, and at the same time support our work. It costs just 5€ per year. ->
click here
Please don't hesitate to get in touch with us, if you have any inquiries
We are looking for volunteer fundraisers and donations.
Please get in touch for more details.
Please like our facebook page where we put up dates for training, trade shows etc. here on a regular basis.
Social Media
Please like our facebook page where we put up dates for training, trade shows etc. here on a regular basis.

We thank you for all your support. Please help us by spreading the word.
And our hashtags for Instagram:
#wilm #womeninlivemusic

All the best
♥
The WILM team
Please don't hesitate to get in touch with us, if you have any inquiries